Investor Relations Home
Corporate Profile
For more than 150 years, Acme United Corporation has been a leading worldwide supplier of innovative cutting, measuring, first aid and sharpening products to the school, home, office, hardware, sporting goods and industrial markets.  Its top brands include First Aid Only®,  
First Aid Central®, PhysiciansCare®, Pac-Kit®, Spill Magic®, Med-Nap, Westcott®, Clauss®, Camillus®, Cuda® and DMT®. Acme United has delivered eleven consecutive years of record sales and is focused on introducing innovative new products across multiple industrial and consumer categories as well as expanding its distribution network. The company has a long and successful track record of tuck-in acquisitions and steady increases in its dividend. It has operations in the U.S., Canada, Europe, and Asia.
Featured Report
News Releases
October 26, 2021 at 9:00 AM EDT

October 19, 2021 at 1:19 PM EDT

October 8, 2021 at 9:00 AM EDT
Stock Quote
NYSE American:
Volume
52 Week High
52 Week Low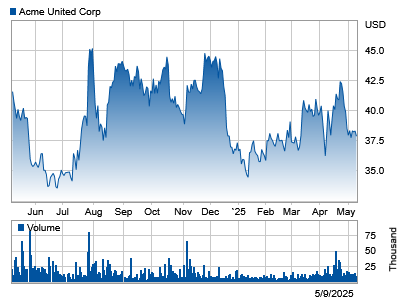 Data Provided by Refinitiv. Minimum 15 minutes delayed.
Primary IR Contact
Acme United Corporation
1 Waterview Drive, Suite 200
Shelton, CT 06484 USA
Transfer Agent
American Stock Transfer & Trust Company
59 Maiden Lane
New York, NY 10038
Phone: 718-921-8208