Investor Relations Home
Corporate Profile
Acme United Corporation was organized as a partnership in 1867 and incorporated in 1882 under the laws of the State of Connecticut. The Company is a leading worldwide supplier of innovative cutting, measuring and safety products to the school, home, office, hardware and industrial markets. The Company's operations are in the United States, Canada, Europe (located in Germany) and Asia (located in Hong Kong and China). The company aims to be the leading supplier of cutting, measuring and safety products to businesses, schools and homes worldwide; to be known for quality and innovation in all the categories in which it participates; and to enter new categories, with innovation that surpasses the competition.
Featured Report
| Title | Downloads |
| --- | --- |
| Acme United Investor Presentation | |
News Releases
April 18, 2019 at 9:00 AM EDT

April 11, 2019 at 3:46 PM EDT

March 21, 2019 at 10:26 AM EDT
Stock Quote
NYSE American:
Volume
52 Week High
52 Week Low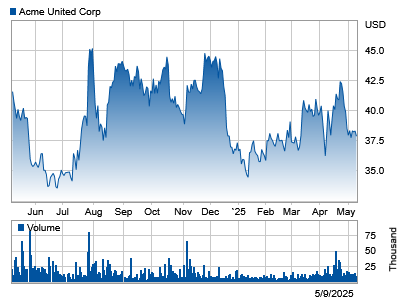 Copyright West LLC. Minimum 15 minutes delayed.
Primary IR Contact
Acme United Corporation
Corporate Offices
55 Walls Drive
Fairfield, CT 06824
Phone: 203-254-6060
Transfer Agent
American Stock Transfer & Trust Company
59 Maiden Lane
New York, NY 10038
Phone: 718-921-8208